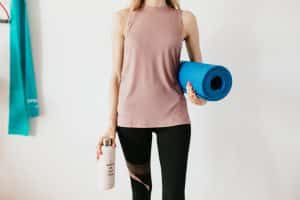 There are many ways to invest. You can invest your money in a future purchase, income, or growth. You can invest your time and sometimes money in learning a new trade or getting a degree. Investments are for a better future, but that future also depends on good health. Without your health, no matter how much money you have or how smart you are, you won't be able to enjoy the gains you made or even work.
Investing time into your health can be a good place to start.
Not everyone can afford the latest cutting-edge medical care, but everyone has an opportunity to control how they spend their time. By carving out an hour a day and focusing on being more active, you can extend not only the length of your life but its quality. A program of regular exercise can take as little as 75 minutes a week of intense exercise, or up to 300 minutes a week of moderate exercise. That's just a fraction of the week's 10, 080 minutes. You don't have to do it all at once, either. Doing short 10-minute sessions several times a day proves beneficial.
Take time for yourself.
Taking time to relax, reduce stress and smell the roses along the way can make a difference in the quality and length of your life. Life is about the journey along the way, too. If you face a lot of stress, take time to learn meditation or other techniques to reduce stress. That exercise program is a start. Like most people, you probably have responsibilities to others, but you also have ones to yourself. Focusing on your needs isn't selfish, it's mandatory. You must be at your best to help others. You need mental clarity and focus to make your life and the lives of others better.
Invest in high-quality food.
Investing in high-quality food doesn't necessarily mean you have to spend a lot of money. It might mean investing time in making meal plans and cooking at home, rather than going the "take-out" or "drive-through" route. You may even save both time and money by using a meal planning program that has menus, a grocery list, and recipes. When you cook a week's worth of meals at one time, it's faster than cooking every day. The rest of the week you simply heat and eat, making it quicker than purchased meals.
Invest time focusing on your posture. Your posture plays a role in your mental health, mental clarity, and health. Back pain, digestive issues, breathing difficulties, and headaches all can start with poor posture.
Regular exercise can reduce the risk of serious conditions, like diabetes or high blood pressure. It can improve your mood, prevent weight gain, improve energy and your sex life, and provide a social outlet.
Invest in time management. Take time to prioritize the important things in life and learn to accept that some things need to be put on the back burner for a while. Allocating your time should be a high priority.
Invest in your health by making time for family and friends. Studies show that people who have a rich social life also have better health and live a longer, more productive life.
For more information, contact us today at Iron Fit San Antonio