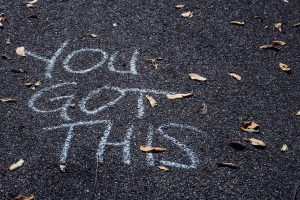 You know you want to lose weight, but haven't been able to do it on your own, but feel a little intimidated when it comes to going to a gym. You can overcome that intimidation and get started at the gym by following a few steps. The first is to make sure you have selected the right gym, one that has a friendly atmosphere. It's one reason we offer a free session. You get a sampling before you commit. You'll realize it's a welcoming place.
Maybe you aren't ready to workout in front of others.
Some people are embarrassed that they're so out of shape, but they shouldn't be. Gyms were made to help people get into shape. If you want to build a little extra confidence, start working out before you start. Go for walks or do mini workouts at home. After a few weeks you'll feel more confident and be ready to workout in the gym. While your progress at home will be slower, you'll still have a bit of a head start and be able to see the difference working with a professional makes.
If you don't want to workout alone, bring a buddy with you.
There's nothing better than having someone you know that's also a beginner. That's why our classes are perfect for people who want to bring a workout buddy. You'll find it easier to stick with your workout, since your buddy holds you accountable, by simply going with you each time—just as you hold your buddy accountable.
Make sure you have appropriate workout clothes.
Appropriate workout clothing doesn't mean high priced sports wear designed for working out. It means having clothes that are loose enough to be comfortable, also ones that allow you to move easily. It can be as simple as wearing a light weight sweatshirt or t-shirt made of cotton, nylon, or polyester that wick sweat. Shorts or sweats are good options for pants, but if you're opting for shorts, they shouldn't be longer than an inch below the knees. Most important are comfortable shoes that are sized properly and absorb sweat appropriately.
Pay close attention to form when you're first starting. Doing more reps isn't nearly as important as having the right form. Go slowly until you can do each exercise correctly.
Don't worry about what others think. Most are so focused on their own progress, they won't notice you during the workout.
If the gym offers healthy eating plans, take advantage of it. You can't out-exercise a bad diet. The combination of healthy eating and exercise will boost your progress, no matter what your goals.
Just do it. There's never a perfect moment to start a workout program and begin at the gym. Start tomorrow if possible. Our free session makes it even easier to begin.
For more information, contact us today at Iron Fit San Antonio