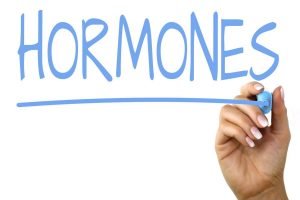 If you're like most people, when you hear the word hormones, you immediately think of testosterone, estrogen and other sex hormones. These are indeed hormones, but not all of them. Hormones are the body's messengers that tell the cells how to act or help it through a process necessary for life. Hormones not only affect your health, they also affect your behavior and mood. They control how much you eat and when you feel full as well. Ghrelin, for example is the hunger hormone, while its counterpart leptin turns on the switch that says you're full. Hormones even affect your mood. Some mental illness is believed to be caused by hormonal imbalances.
Most people have heard of insulin, but may not have realized it's a hormone.
Lack of adequate insulin produced is what causes type 1 diabetes and insulin resistance causes type 2. Insulin opens the cells and makes them receptive to the sugar in the bloodstream, glucose. The cells then use it for energy to stay healthy and nourished. When the there's a problem using the cells using insulin or the creation of insulin, there's high levels of sugar in the blood. When high blood sugar levels are due to insulin resistance, exercise and a healthy diet are often used to control and reverse the condition in some cases. For those that don't create any or enough insulin, taking shots or oral insulin is the solution, but eating healthy and exercise is also part of the prescription.
Cortisol plays both a positive and negative role on your health.
Cortisol is a stress hormone that's created in the adrenal glands. It prepares the body for the flight or fight response, but if left unchecked maintains the body in a high form of readiness for either running away or fighting. That causes changes that affect good health. It's associated with abdominal fat, the most dangerous type of fat, too. Cortisol is for more than just situations where you face stress. Almost all cells have receptors for cortisol. That's because it performs a lot of functions. It keeps your metabolism in check, controls blood sugar levels, helps you remember better and as a steroid hormone, aids in inflammation reduction. It's necessary to be healthy, but you can have too much of a good thing in the case of cortisol.
There's a hormone that's considered the fountain of youth in the world of hormones.
You may have heard a lot about HGH—human growth hormone. It's been touted as the miracle hormone that's the fountain of youth. That's because it helps in muscle development and when you're younger, growth spurts. HGH has a lot of jobs in your body. It regulates heart functioning, bone growth, body fluids, fat metabolism, body composition and sugar metabolism. Doctors use a synthetic type of HGH to treat muscle wasting and kidney disease. While there's no concrete evidence that it slows aging, that's never stopped people from spending thousands of dollars to try it. Since the stomach acids destroy it, anyone spending money on HGH pills is definitely wasting their dollars. However, working out regularly, particularly using high intensity training, and eating a healthy diet does boost it's production.
Some of the mood regulating hormones include serotonin, dopamine, glutamate and norepinephrine.
Serotonin helps regulate your mood, sleep cycle, memory, appetite and more. Low levels can cause weight gain, depression and insomnia. Dopamine helps control behavior, emotion, and makes your feel good.
If you want a good night's sleep, you need the hormone melatonin. It only works in total darkness, so shut off your TV and lights. Lack of it is associated with obesity, diabetes and cancer.
If you want bulky muscles, you need more testosterone. That's one reason women don't bulk up like men do, they have far less.
Both sexes have estrogen, just as both have testosterone. However, men have far less estrogen than women do. It's important for muscle recovery and exercise can boost its production.