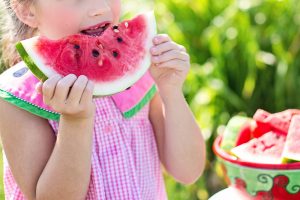 You don't have to want to lose weight to want healthy snacks. It's good for everyone, whether it's for more nutrition or just lower calories to lose weight. You can control the ingredients, so you know everything they contain and it doesn't have to cost a fortune to make them either. Snacks play an important role in your overall nutrition and help you fill up, so you don't eat as much during a meal or grab those sugar treats that are empty calories to fill in the void.
Get a piece of fruit for a sugar boost, fiber and nutrients, plus some type of protein.
Probably the easiest snack to make is one that involves fresh fruit and a source of protein. Apples and peanut butter are a favorite, but so is a slice of cheese and grapes or an apple. Unsweetened applesauce and cottage cheese or cantaloupe is another tasty treat. Try making a delicious treat with Greek yogurt chopped frozen black cherries (or other frozen fruit), walnut or other nut pieces and putting it in small mason jelly jars with lids. It will be ready to mix and serve with no added sugar and plenty of protein and nutrients.
Make your own special dip for those raw veggies.
Whether it's raw fruit or vegetables, when they're cleaned, cut and ready, they'll be eaten. Create your own dip and you'll know exactly what's in it, so there's no hidden additives or preservatives. Of course, when it comes to dip, serving size counts for those calorie counters. Consider bean dips or ones made with Greek yogurt. For bean dips, you can use almost any type of bean, but Canelli beans are a favorite of many. Use a food processor to mix and smooth the beans with olive oil, garlic, thyme, Italian parsley and chicken broth or make a yogurt dip with garlic powder, sriracha sauce, salt and pepper.
A smoothie packed with fresh fruit and vegetables can be a meal or a snack.
Smoothies are great when you're in a hurry and don't have time for a full meal, but they also make a good snack. Just toss fresh or frozen fruit and/or vegetables into a blender and turn it on. You can mix in ice, yogurt, frozen fruit juice or whatever you have available. Try throwing in a banana, frozen cherries, some milk or Greek yogurt, a bit of nut butter and a touch of vanilla extract and salt for a banana split smoothie. To make it a meal, you need ingredients that satisfy longer, like more protein and healthy fat.
If you want to fill up, but not out, make sure your snack has healthy protein and healthy fat to keep you full longer. Nuts provide protein and healthy fat. Avocado provides healthy fat and loads of nutrients.
If you want a super healthy and different type of dip for veggies, mash avocado with a little lemon juice, spices, salsa or Parmesan cheese. It's nutritious and delicious.
Make microwave popcorn that's healthy. If you don't have an air popper, you can still make healthy microwave popcorn. Put ¼ C kernels in a brown paper lunch bag and fold the top. Microwave until you hear the popping slow. Add spices or Parmesan cheese for flavor.
Make your own healthy summer treat in Popsicle form. Create a creamy frozen treat with berries, cherries or other fruit blended with plain yogurt and frozen. Frozen banana rounds that are blended, smooth mimic ice cream flavor and texture without the calories. Add nuts to make it even better.
For more information, contact us today at Iron Fit