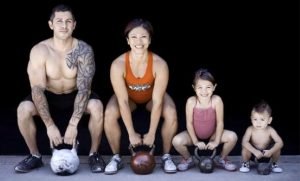 Good family workouts don't have to be limited to the types of exercises done at the gym, although there's nothing wrong with that and it could be fun to do together. When you're working out with kids, make it fun. Planking, squats, push-ups, crunches and lunges are easy enough exercises for the whole family to do. Stability ball exercises are also fun to do and super good for building a strong core. The age of the children make all the difference in the world. Young children will love exercises that mimic animals. There are all sorts to do from a puppy dog walk to a crab walk. Once you workout with the kids, you'll notice that they're playing with glee and you're the one who is getting tired.
Take an adventure walk.
While taking a walk is good exercise, there's nothing exciting about it unless you have a place to go or maybe even a treasure map. Choose a final location that's fun, like a park or even playground. Pack a healthy lunch to eat there and make it a picnic. If you have a friend that's far enough from your home to make the walk a healthy distance, but not so far that you're too worn out to walk home, get permission to hide or bury a treasure at their home. You then need to create a treasure map to their house giving everyone a copy. It's a super fun game that keeps their mind off the walk and on the adventure.
Participate in sports to keep active.
Participating in sports doesn't necessarily mean joining a ball team. It could mean swimming, snow or water skiing, walking are running marathons or even bicycling. A family bike ride is active and you can help your children learn safe bicycling in the process. If you have a pool nearby, take swimming lessons so you all can enjoy the beach safely. Snow skiing isn't exactly a Texas pastime, but there are places to water ski just north of San Antonio.
There's plenty to see in San Antonio with a lot of walking to see it.
The San Antonio Zoological Gardens and Aquarium is a 35-acre zoo. That means a lot of walking for both parents and children. Natural Bridge Caverns is another site that involves walking, combining it with some amazing sites. Go to Phil Harberger park on weed Wednesday to help combat exotic weeds that have invaded the area and are overtaking local plants. You spend time in the great outdoors pulling weeds and replanting native plants, which is extremely tiring exercise, but it gives an appreciation of nature in the process. Of course, you can go to the park anytime for nature walks and enjoying the great outdoor.
Take a trip to a trampoline park. It's fun an will keep the family active.
Plant a garden together and do yard work. Keep it fun and about an hour. Gardening is a combination of movements, depending on the season. Digging, pulling, planting and etc. go into creating a great garden. Grow at least one plant that produces something to eat.
Turn up the music and have a dance fest in the living room.
Get out the jump ropes and hone your skills. Jump ropes have been around for a long time and aren't at all high tech, but you'll get a lot of exercise jumping rope together and have fun in the process.