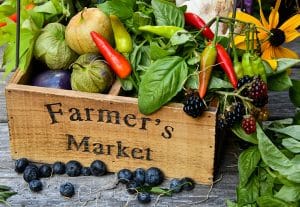 If you want to maximize the nutrients in your food, shop at any of the San Antonio, TX, farmers' markets. They offer fresh produce that's locally grown, so it's right from the garden. You'll get more nutrients. There's everything from heirloom tomatoes to sweet potatoes, so creating a healthy meal is a cinch. Many farmers' markets offer animal products. You'll often find healthier options like meat and eggs from pasture-raised animals.
Get up early, exercise, and shop on the weekends.
You'll get a head start on fitness when you plan. Most farmers' markets are only open on the weekend. You can maintain your weekly sleep schedule by getting up early and exercising. That leaves enough time to shower and start shopping when they open. If you aren't meal planning, it can be a good time to start. Try several different markets until you find the ones that offer the best variety and produce.
Stock up on the superfoods.
Beets, broccoli, spinach, summer squash, sweet corn, strawberries, tomatoes, and many other summer vegetables are available in August. Plan your meals around the seasonal produce and buy extra to freeze or can for later. Focus on the superfoods packed with nutrients like beets. Beets are high in manganese, potassium, and folate. They're sweet but low in calories. You can eat the leaves and beetroot. They're high in fiber, zinc, vitamin C, and iron. They help fight inflammation, improve physical endurance, lower blood pressure, and improve cognitive function.
Get more nutrients from farm fresh produce and pastured animal products.
It's hard to find fresh produce in the grocery store, particularly if it's organic. You can find it at a farmers' market. Locally grown produce is picked at peak ripeness, so it tastes better and is packed with more nutrition. If it's organically grown, you know it has to follow strict compliance with rules, so the fertilizer isn't the traditionally grown type that contains only phosphorus, nitrates, and potassium. The fertilizer for organic gardeners contains trace minerals. The farmers use earth-friendly practices that put more nutrients back into the soil. Animal products are often from pastured animals, where they eat their traditional food. The nutrient profile is far higher in these products.
You can often save money at farmers' markets, especially on organically grown produce. There's no middleman, like the grocery. You purchase it directly from the producer.
Don't forget to check for fresh herbs and spices to add more nutrition to your meals. Don't be afraid to add them to almost any dish. They can make you look like an ace in the kitchen while boosting nutrients.
If you aren't already using some of the fruits and vegetables you find, get adventurous. Try foods you wouldn't otherwise purchase, like sweet potatoes, parsnips, or fresh figs. Many of the vendors share favorite recipes and tips for creating new dishes.
You'll probably find some fruits and vegetables you've never seen. Just remember to choose a rainbow of colorful fruits and vegetables to maximize nutrition. Farmer's markets are child friendly, so it's a chance to let the little ones help choose a meal.
For more information, contact us today at Iron Fit San Antonio